If you need an expert fishing guide in Pensacola, Florida, you need Bout Time Charters. We have the experience and equipment any angler needs to have a great time in the Gulf of Mexico. Whether you are a first-time angler or have years of experience, Bout Time Charters is your best bet for an unforgettable fishing charter.
We run a variety of vessels, NEW for 2016 our brand new 2016 Blazer Bay with a 300hp Yamaha motor!  This boat is the same size as our old 2006 vessel, but with a lot more room to fish! The Daiwa Guide Service Program sponsors our inshore fishing charters, allowing us to use the latest and greatest Daiwa rods and reels.
What to Bring
Sunscreen, sunglasses & hat
Water, soda & snacks
White soled shoes
Camera
PLEASE no banannas!
Our Boat & Equipment
24 ft '04 Everglades fully equipped – a first class ride!
Top of the line Daiwa rods & reels
USCG safety equipped!
Charter Includes
Fishing licenses
Bait
Ice
Rods, reels & trackle. Including top of the line Daiwa equipment.
How to Book a Trip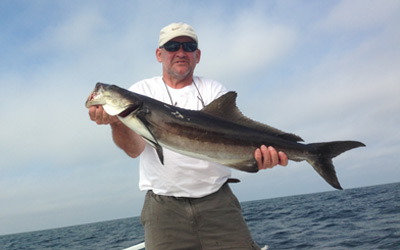 Step 1: Give me a Call
Give me a call and we can discuss open dates and what type of fishing you would like to do. Charters shouldn't be booked by clicking on a calendar to reserve your date or by email alone – give me a call and let's talk about your trip. You might want to go offshore and fish for snapper or stay inshore and hook up some redfish – or perhaps a combination of both! You may have children you'd like to bring, or perhaps an adult friend or relative that has special needs.
Step 2: Send me your deposit to book your date
Balance of the trip is due the day of the charter. Cash or check please.
Step 3: I'll stock the boat for fishing & safety and you bring a few items for your comfort
Based on what type of fishing you want to do I'll stock the boat with the right types of rods and reels and bait. Make sure we have the proper safety equipment based on the number of anglers. I'll have ice in the cooler, tunes on the stereo and a plan of attack for the day. You bring a sense of adventure, snacks and drinks for yourself, sunscreen, hats and sunglasses. If you have deck shoes or white soled shoes those are great! Bring your camera to capture the excitement of the day. Put your camera in a Ziploc bag and we'll make sure it stay's high and dry. Just a superstitious note: please no bananas. Why you ask? Click here for info on the superstition – or ask me when you get on the boat!
Step 4: Meet me at the dock and let's fish!
We'll make arrangements to meet you at a convenient boat ramp or dock based on where you are staying or where we will be fishing for the day. After that – we are all set for a great day of fishing.
Step 5: Clean 'em up and eat em!
Back at the dock I'll clean and pack your fish so you can take them home and enjoy! For those of you that are vacationing here there are several restaurants that will gladly cook up your catch! We can recommend a few and one of our favorites is Aegean Breeze in Gulf Breeze.
Step 6: Plan your vacation next year!
Plan to come back to the beautiful gulf coast next year! You'll long for the sugar white sands, great local hospitality, seeing the sites and of course the FRESH FISH!
RESERVATIONS$100 deposit is required to hold your dateDiscounts are available for multiple day trips – call for details
Discounts are also available for active and retired military
CANCELLATION POLICY
Full refund will be provided if you cancel your trip with 72 hours of departure time.
Cancellations made within a 72 hour window can receive a credit towards future fishing trip.
Cancellations made within 24 hours of departure time will be charged full amount of charter.
FOUL WEATHER
Your safety is our utmost concern. Unfortunately we can't control Mother Nature! Weather cancellations are the Captains discretion and will receive a full refund or can use deposit to reschedule for another date. We'll make every effort if you are on vacation to accomodate your trip during your stay if we have open dates available
Here are a few other trips you might be interested in:
Have a younger family and not sure if everyone will LOVE fishing like you do? Book an "INTRO to Fishing" trip with us. This is a special THREE HOUR TRIP (this works well for younger children) and we'll teach you the basics of fishing and make sure the kids catch fish they can reel themselves and have a great sense of accomplishment AND reel in enough fish to wear out their arms! Call me for details on this trip.
Not everyone in your family itching to go Inshore fishing? Pensacola offers countless breathtaking sights for you to view during one of our professional tours. Fort Pickens, Fort McCrae, the lighthouse and Naval Air Station Pensacola, the Sugar Bowl to the east of Pensacola Beach – a cruise to Lulu's in Orange Beach! Watching a great sunset and watching dolphins play! There's a lot to do on the waterways of the Pensacola area.
Sometimes it's too hot to be on the Beach Blue Angel Weekend. You know when they have to clear the water for the show to start. Try watching the Blues from the best seat in the house – OUR BOAT! And a Captain makes the BEST designated driver! Book us for a Blue Angel show! It's lots of fun to be in the middle of the action off the beach in the gulf OR we can go to where the real party is in the Sabine!