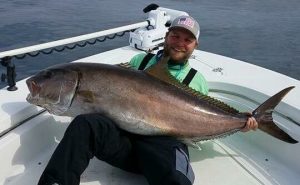 Captain Brett Tennant
Captain Brett Tennant was born in Richmond, Va. in 1984. As a young child at the age of 4 he started fishing with his mother and father. He grew up playing all sports and studying hard to make good grades. Fishing was always a main passion. He started out fishing local creeks and ponds for all sorts of freshwater fish.
Inspired by such TV shows as Bill Dance Outdoors and Fishing with Jimmy Houston, he entered his first freshwater tournament on the Chickahominy River when he was 15. After getting 3rd place and out fishing some of his long time freshwater idols, he decided he was going to fish forever. At the same time he was competing in fishing tournaments he was also touring the country as a professional skater and working with the all famous "Camp Woodward" every summer.
By the time he was 18 he owned his own bass boat and had learned the ways of chasing Striped Bass, Catfish, Smallmouth Bass, Largemouth Bass, and the North American Shad on the James River and Lake Anna. He then graduated from Virginia Commonwealth University with a Bachelor of Science in Criminal Justice.
After mastering freshwater fishing and gaining multitudes of citation fishing awards in every freshwater species, he decided it was time to explore more water. He took a career opportunity as a sales rep for AT&T which eventually led him to Pensacola. Over the last few years, he has been ever producing fish and showing unforgettable times on the waters of the Gulf of Mexico.
This has been his lifelong dream and he's always happy to share it with those around him!
Meet Captain Tim Kline
Captain Tim Kline has 22 years of fishing experience and spent his childhood fishing all over the Florida Coast. At the age of 14 Tim lived in Marathon, FL. He was a mate on multiple offshore boats and honed in his knowledge of tackle and rigging working at World Class Anglers. Most of the time you could find him in his skiff fishing the back country, mangroves, flats and reefs from Florida Bay and Everglades to the Marquesses off Key West . This is where his love of the water and fishing was born.
When Tim turned 17 he moved to Orange Park outside of Jacksonville and began fishing out of St. Augustine where he enjoyed offshore trolling for pelagic species. He also enjoyed inshore fishing around the Big Bend. When he was 18 his father retired from the Navy and settled in Pensacola. Tim got married in 2004 and his family moved to Oahu Hawaii where he learned new offshore techniques for marlin and big game fishing. In 2005 the family settled in Pensacola FL again. At that time he improved his knowledge of local fishing landmarks such as the oil rig fields, inshore live bottom and wrecks in the Gulf of Mexico. Tim and his father began fishing with a group of friend and Team Recess was born. Tim spent countless hours rigging baits, preparing tackle, learning about fishing patterns, tides and seasons. On any given weekend you could find him fishing in and around the Pensacola area.
He also enjoyed fishing multiple fishing tournaments. The year 2009 brought a new obsession with swordfishing, Tim took all he had learned from daytime swordfishing in the Keys and adapted new techniques to utilize in the Pensacola area. Tim and the crew of Team Recess became one of the 1st pioneers of daytime swordfishing in Pensacola. After having a daughter in 2014, and building a house for his family in 2016 it was time for Tim to pursue his love of fishing further by becoming a USGG licensed Charter Boat Captain. Any day on the water is a good day, and Tims fishing motto is you never know unless you go, this can be seen in his passion for fishing.