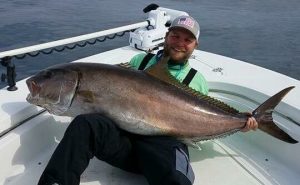 Captain Brett Tennant
Captain Brett Tennant was born in Richmond, Va. in 1984. As a young child at the age of 4 he started fishing with his mother and father. He grew up playing all sports and studying hard to make good grades. Fishing was always a main passion. He started out fishing local creeks and ponds for all sorts of freshwater fish.
Inspired by such TV shows as Bill Dance Outdoors and Fishing with Jimmy Houston, he entered his first freshwater tournament on the Chickahominy River when he was 15. After getting 3rd place and out fishing some of his long time freshwater idols, he decided he was going to fish forever. At the same time he was competing in fishing tournaments he was also touring the country as a professional skater and working with the all famous "Camp Woodward" every summer.
By the time he was 18 he owned his own bass boat and had learned the ways of chasing Striped Bass, Catfish, Smallmouth Bass, Largemouth Bass, and the North American Shad on the James River and Lake Anna. He then graduated from Virginia Commonwealth University with a Bachelor of Science in Criminal Justice.
After mastering freshwater fishing and gaining multitudes of citation fishing awards in every freshwater species, he decided it was time to explore more water. He took a career opportunity as a sales rep for AT&T which eventually led him to Pensacola. Over the last few years, he has been ever producing fish and showing unforgettable times on the waters of the Gulf of Mexico.
This has been his lifelong dream and he's always happy to share it with those around him!